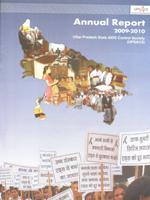 UPSACS Annual Report
SCS has been instrumental in collating all the relevant information duly made available by UPSACS and its Technical Support Unit (TSU) in the form of an Annual Report. This task of developing Annual report for UPSACS was duly supported by USAID funded Family Health International's Project Samarth.
A HIV/AIDS Manual for Inter-Sectoral Partners of UPSACS
SCS provided professional support in developing the content for this manual which was prepared by the Uttar Pradesh State Aids Control Society in collaboration with UNICEF Office of Uttar Pradesh and with support from State Institute for Health and Family Welfare, Uttar Pradesh. This manual has been prepared for the state government employees of various departments. The document is user friendly and hence can be used in a multicultural and multi-sectoral setting by people coming from different backgrounds and social segments. This document can also be used as a primer for readers especially those who are uninitiated in the world of HIV/AIDS.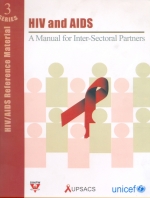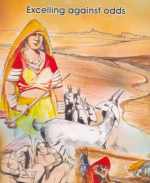 Excelling Against Odds
Catholic Relief Services (CRS), Jaipur has been working in collaboration with partner organizations for the socio-economic wellbeing of drought hit rural communities, particularly women, in Ajmer. SCS supported CRS in documenting its efforts to empower women with an objective of capturing some of the most significant activities that women members have taken up as a result of programmatic interventions. Field visits to the Ajmer Watershed program area resulted in dialoguing with the community and recording significant change stories and case studies. The document titled "Excelling Against Odds" is a unique contribution that women can and do make a difference by emerging as leaders in the process of struggle for social justice. The document is a primer for all the readers who can use the learning's to inform thinking and action around contemporary issues.
Udaan 2007
Udaan 2007, a two days mini special Olympics for differently abled children was held on 1st and 2nd December 2007. The event was jointly sponsored by "Liliane Foundation" and the "Catholic Diocese of Lucknow" and organized by the "Diocesan Social Work Society of Lucknow". SCS provided support in coordinating and conceptualizing the video and print documentation of the event. The documentary (developed both in English and Hindi) depicted the preparation and experiences of organizers, participants and their guardians during the Udaan 2007. The film also captures the energy, courage and joy of the special children who participated in this event. The print and the video document both offers a hope that guardians of disabled children recognize their hidden skills and talents and motivate them to become part of the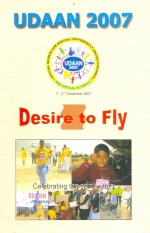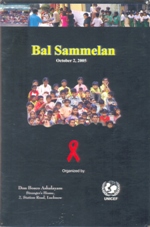 Bal Sammelan
Don Bosco Ashramalaya in collaboration with renowned civil society organizations of Lucknow and with support from UNICEF Office of Uttar Pradesh organized a one day event on 2nd October 2005 titled "Bal Sammelan" to celebrate the birth anniversary of Mahatma Gandhi. The Bal Sammelan served as a forum to disseminate information about dangers of HIV/AIDS, methods of prevention and protection and its impact. SCS provided documentation support to capture the key events organized during the day long activities with a special focus on capturing the joy, learning and experiences of both the organizers and participants.
DORD Annual report
SCS provided support to DORD in developing the organization's Annual Report for the year 2007-08. The report was designed in such a way so as to serve the need of a wide range of readers including donors, partners, associates, and beneficiaries.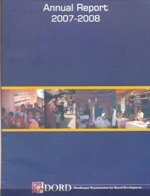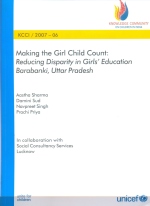 KCCI Report – Making the Girl Child Count: Reducing Disparity in Girls' Education Barabanki, Uttar Pradesh
The Knowledge Community on Children in India is a partnership between UNICEF and the Government of India which aims to fill knowledge gaps and promote information-sharing on policies and programmes related to children in India. The KCCI Internship Programme aims at developing a cadre of young research and development professionals with interest, commitment and skills relating to child rights. In 2007 SCS hosted a team of four interns and supported them (two associate consultants of the organization provided mentoring support) in undertaking a study in Barabanki district on the issue of girl child education. This case study examined the progress made in girls' education in Uttar Pradesh's Barabanki district under Girls' Education Project (GEP).
KCCI Report – Weapons of the Weak: Empowering People through Self Help
SCS hosted a team of four interns and supported them (two associate consultants of the organization provided mentoring support) in carrying out a study in UNICEF supported integrated programme district Lalitpur. The objective of the study was to understand the impact of village planning on the rural communities, impact of demand-generation on service delivery, inclusion of socially excluded groups in the process and its impact and sustainability of the intervention.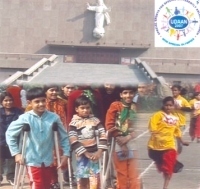 Udaan 2007
A 5 minutes English version
Udaan 2007
A 30 minutes Hindi version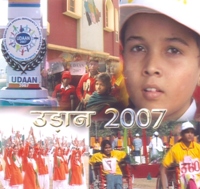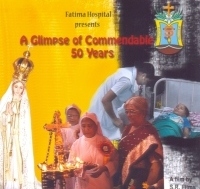 Glorious 50 Years of Fatima Hospital
A 10 minutes English documentary
The documentary is an endeavour of Fatima Hospital to look back into its fifty years of diligent efforts and to acknowledge the persons, institutions, beneficiaries and other stakeholders who have rendered their five decades of selfless support.